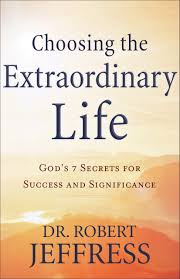 What an honor to speak with and interview Dr. Robert Jeffress, the Pastor of 1st Baptist Dallas, Texas and discuss his latest book "Choosing the Extraordinary Life" being distributed through all major booksellers, throughout the world Find it Here
The average adult works 40 hours a week, 50 weeks a year, for at least 30 years of his or her life. Outside of the hours spent working and taking care of children, mowing the lawn, grocery shopping and numerous other menial but necessary tasks consume the remaining time. But what if there was more to life than the humdrum rhythms of ordinary days?
Best-selling author and pastor Dr. Robert Jeffress wants readers to know that there is more—an extraordinary life is not only possible, but it's ready and waiting. In his upcoming book, Choosing the Extraordinary Life: God's 7 Secrets for Success and Significance (Baker Books, September 4, 2018), Jeffress shows readers God's roadmap to living an extraordinary life full of purpose and meaning.
"The secret to an extraordinary life is understanding God's purpose for our lives and then living it, " writes Jeffress. "When we pursue God's purpose, He will transform our ordinary existence into an extraordinary life. Nothing could be more significant than that."
In Choosing the Extraordinary Life, Jeffress examines the life of Elijah, tracing Elijah's transformation from ordinary to extraordinary and providing the seven secrets of success and significance that Christians must embrace in order to experience the incredible life that God promises.  #drrobertjeffress #extraordinarylife #hope #faith #significance #robertjeffress #pastorrobertjeffress #choosing #drdukeshow
#informedradio