Social Share & Automatic Distribution
Take advantage of the power of the internet for podcast marketing. Social sharing tools make it easy to spread the word about your podcast. Your distribution-ready RSS feed means you can publish your podcast to iTunes, Wordpress, and podcast apps automatically. Podbean's partnership with Spotify gives you access to another audience of potential podcast listeners. Auto-share your podcast across social networks like Facebook, Twitter, YouTube and Tumblr. You can also use our Embeddable Players to embed your podcast easily into your website or blog.
Mobile Podcast Marketing: Podbean iPhone/Android App
Nowadays, podcast marketing is all about mobile listening. Reach your audience anytime, anywhere with the popular Podbean iPhone and Android apps. They can stay updated with new episode notifications and instantly stream or download podcasts to play offline. Staying top of mind with listeners is a key component of maximizing your podcast marketing.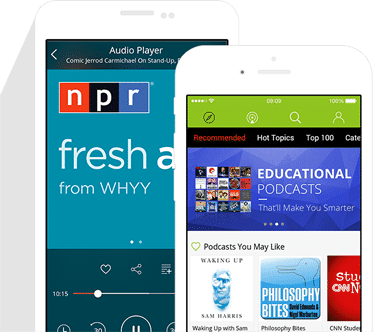 Smart Speaker Podcast Accessibility: Amazon Alexa
Whether in the office or at home, your listeners can now find and play your podcasts with voice commands to Alexa for Echo and other devices.
Podcast Search Engine Optimization
Podbean's SEO-friendly interface allows best practices like podcast title and meta tags so your podcast gets found on search engines quickly.
Podcast Marketing Promotional Opportunities
Podbean offers special feature opportunities in the Podbean directory and our app. We can help put you front and center to attract new listeners. Additionally, the Podbean app helps users with discoverability via topics, categories, recommendations and suggestions based on their listening habits.
A Collaborative Community to Improve Your Podcast Marketing
Podbean's supportive Podcasting Smarter community provides opportunities to cross-promote, collaborate and learn from other podcasters. We offer podcast marketing educational tools, from our Podcasting Smarter podcast to Youtube tutorials and a blog catalog on various topics.