With the surging popularity of podcasts, many companies are discovering the ways this medium can help their business. A corporate podcast can address many business needs, from a branded corporate podcast for marketing to internal podcasts to engage, connect, and inform employees. A corporate podcast offers a unique way to tell a story and get information across that is both more convenient and more effective.
There are two broad types of corporate podcasts with many different uses.
1. Internal, private podcasts for employees, members, or vendors/partners

Podcasts are becoming an increasingly popular way to communicate information to employees or members. Some of the ways an internal corporate podcast can be used include:
Onboarding
Training
CEO fireside chats or leadership interviews
Employee stories and knowledge sharing; customer stories
Leadership development
Sales enablement
Product updates
Role plays
Wellness content
Industry knowledge, expert talks
An internal corporate podcast can be used in more ways than we can list. They are especially useful for giving employees (or vendors/partners) information they need on hand anytime and keeping everyone informed and connected.
2. Public-facing corporate podcasts (branded podcasts)

A corporate podcast can be used as a marketing tool for a company, to share more about what they do, stories of how their product or service helps, and build deeper relationships with potential and current customers.
A branded podcast is simply a podcast created by a brand, but it is nothing like a commercial. It may contain direct ads for the company or simply be branded/associated with the company name. It typically gets across subject-matter expertise and puts the company front and center as a leader. A branded podcast may use stories or interviews that demonstrate the value of the type of work the company does or shows the needs and issues as they affect customers.
Why is a corporate podcast so effective?
The Power of Stories: Forging Connections
People learn from stories. Storytelling is inherent to human communication, from ancient oral traditions to the long history of radio and, more recently, on-demand media such as podcasts and video. As cited by Harvard Business, psychologist Jerome Bruner's research suggests that facts are 20 times more likely to be remembered if they're part of a story. As the author points out, stories help us see relationships to understand information in a way that a list of numbers doesn't.
Large-scale studies by Microsoft indicate employees consistently report feeling disconnected recently. A corporate podcast taps into the power of storytelling. Therefore, the information tends to stick with listeners but also strengthens connections. For example, many Podbean customers use podcasts to share employee success stories or offer internal subject-matter expertise. Others send out messages from leadership, which have a more personal tone and intimacy than text can convey.
Inclusivity & Accessibility
Podcasts have become an important tool for inclusivity and diversity, to broaden employees' perspectives and keep them from operating in silos. They give teams an easy way to stay informed and gain a deeper understanding of the direction and ethos of the company, starting right from onboarding. Several Podbean customers create onboarding playlists, which they tell us have helped employees "hit the ground running". Given that new hires and younger employees report more feelings of disconnectedness, this is a valuable use case for a corporate podcast.
Listener Benefits: Convenience, Screen Freedom, Productivity
A corporate podcast also provides a level of convenience that many other mediums do not. Microsoft data alone shows a 200% increase in virtual meetings during 2020. Employees' work days increased by 8.2% in the early weeks of the pandemic and many continue to put in long hours in volatile environments. Additionally, employees sent 5.2 percent more emails a day, with an increased number of recipients, and more emails after business hours.
Brain studies show this increased screen time leads to stress build up and decreased focus and engagement. In other words, screen fatigue and employee burnout is very real. And, when attracting and retaining talent can be challenging, companies can't afford to ignore this issue.
Podcasts let employees get what they need on their schedules. They can listen on their mobile devices using an app like the Podbean Pro app wherever and whenever they want. Providing information in this way shows respect for the employee and their time. It also correlates well with the understanding that employee wellness is vital. An employee can get some exercise or get outside for a break while listening to a corporate podcast.
All of these benefits also hold true for corporate podcasts geared to a wider audience. Stories connect potential customers to a company in a way advertising cannot accomplish. And, podcasts cut through the media noise to stand out and stick with someone who could be a potential customer.
How to Create and Distribute Your Corporate Podcast

Any good corporate podcast begins with understanding the goal of the podcast. Some of the logistics will vary depending on if you're creating a public, branded podcast or a private, internal podcast. We will outline more about that below. But, here are the key steps to successfully create a corporate podcast.
1.Build a corporate podcast content strategy based on your goals.
What is the reason for doing a podcast? Based on your purpose and audience, what format fits best? How will you get or create content (interviews, scripted episodes, repurposed content)? You may have a specific use in mind, but it is also helpful to survey employees (or customers) and seek feedback about what they need and want.
This is also where you can make decisions about the frequency of publishing and length, though that may change as you measure your results. It is also important to set forth how you will measure success (using your podcast analytics, such as those that Podbean provides).
2. Determine roles for creating and managing your podcast.
Who is responsible for the overall project? How will content be created and by whom? Will different employees contribute? Who has the skill set for technical aspects like recording and editing (or will you outsource those)?
When you use a platform like Podbean for Enterprise Podcasting, you can have multiple admins with different roles contributing to the podcast. The most successful corporate podcasts are a collaborative venture.
3. Determine what platform you will use to host and distribute your corporate podcast(s).
Decide how you will store your podcast and distribute it. You likely want a dedicated podcast hosting service, which will ensure a proper podcast setup and a smooth listening experience. A podcast host like Podbean can get your public podcast distributed to the popular directories and apps, like Apple Podcasts, Spotify, and Google Podcasts.
If you're producing a private corporate podcast, it is essential to choose a podcast host that combines enterprise-level security with a quality user experience.
Be sure to get appropriate team members involved in this process, from determining the budget for the project to consulting with IT about security requirements.
4. Record your podcast.
Determine how you plan to record your corporate podcast. Some companies have a studio set up at their location, while others rent time in a local studio. You can create an easy podcast recording setup in almost any space for a reasonable budget. Many companies even repurpose other tools and content, such as Zoom calls or presentations.
5. Complete post-production of your corporate podcast.
In most cases, your podcast recording will need some editing. A little bit of post-production work will polish up the podcast to make it appealing to listeners.
6. Distribute and promote the podcast.
This is perhaps one of the most important and overlooked elements of a corporate podcast.
For a private corporate podcast, this step is just as important. Simply posting audio files on your intranet or LMS may not yield the results you want as it doesn't provide the best user experience. There are different options for corporate podcast hosting. We have listed some considerations below. Once you have determined how to host and distribute the podcast, internal promotion helps ensure awareness to build engagement.
For a branded podcast, you want to ensure it is available on all podcast listening platforms and apps. Use a podcast hosting company to distribute it and keep it running smoothly for anyone listening around the world.
7. Measure results and make improvements.
Analyze the data about your podcast's performance against your goals. Along with listening rates, if you use a service like Podbean for corporate podcast hosting, you can analyze detailed content performance. Our user engagement intel shows a second-by-second analysis of listening so you can see what people skip, relisten to, and where improvements might be made. If most people stop listening after 20 minutes, it may be time to shorten your episodes or find ways to make the final segments more interesting.
For private corporate podcasts, Podbean also provides individual listener data. Some companies use this to credit employees for completing training content or in their employee development plan.
How to Securely Host and Distribute an Internal Company Podcast
When you want to convey internal company information via a private podcast, security is a top consideration. There are different options to host and distribute private podcasts, but not all of them offer the level of security combined with the benefits of a podcast.
One option is to use an unlisted podcast RSS feed, sometimes called a "private feed". Unfortunately, those can be easily shared and accessed without much control. On the other hand, some companies create audio and store it on their intranet or learning management system. This has the benefit of your company's security layer, but lacks mobility and podcast listening features. Distributing the content solely on an internal system sets up barriers, which often affects listening rates.
The best solution for many companies, and the one Podbean offers, is a secure system in which approved members access private podcasts via a unique login. The member can be removed, for example when they leave the company. Ideally, a system that integrates with your company's SSO (single sign on) simplifies access for the employee while using your company's security layer.
How an Employee Listens to Your Private Corporate Podcast
Using a private member login system like Podbean's means that the company maintains a high level of content control while the employee can easily listen to the podcasts.
The employee can visit the company podcast site on any browser. They must be logged in to access private content. They can login with their approved email and password, or click the SSO login option to be redirected to their normal company login. Once that's done, they land on the organization page and can click any podcast to listen. Podbean's modern podcast page themes are mobile-responsive with a handy podcast player.
The employee can listen anywhere, anytime on their mobile device using the Podbean Pro app (we offer a few app options for companies-contact us to discuss what will work best for you). Once logged in, they'll have access to listen to and organize their company podcasts just like they're used to with most podcast apps. They can listen online or offline.
Podbean also offers embeddable players for your company's intranet. This can help to highlight the podcast and promote the content when employees are navigating your site.
Podbean Corporate Podcast Hosting
Podbean's Pro Podcast Hosting Platform offers: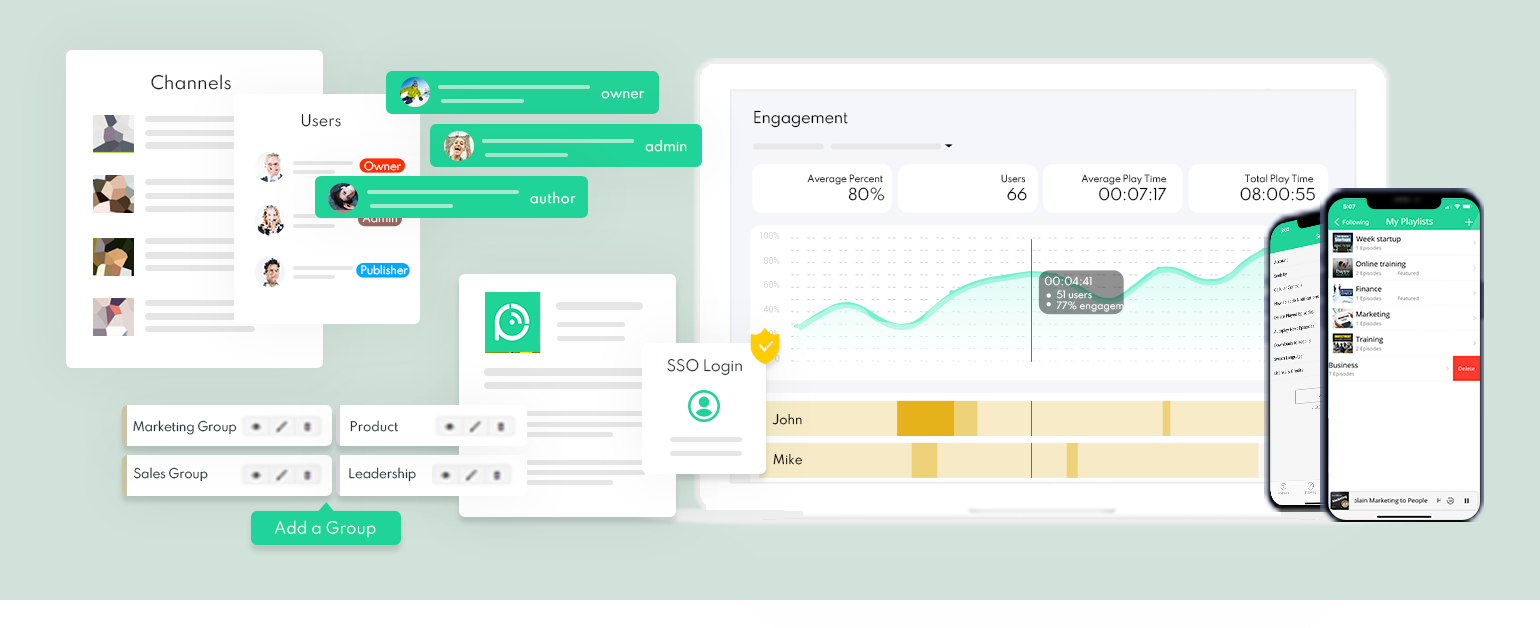 Enterprise-level security with SSO integration
Podcast apps with a top-rated user experience
Multiple admin roles and unlimited number of admins, for easy collaboration
Detailed podcast analytics and unique user engagement intel
Hosting for both public and private corporate podcasts
Unlimited private channels to expand content without budgetary concerns
Distribution for branded/public podcasts