FEATURES
Completely Customizable
Everything can be set up and managed intuitively from your Podbean dashboard. You pick which content to monetize, how to sell it, and set pricing for an ongoing series of episodes, a complete season/course/package
Easy, Secure Access
Take advantage of "in the moment" purchasing power: listeners can purchase content in a couple clicks when they're listening in the Podbean app. They can securely access purchased content via the Podbean apps or online for convenient listening anytime.

Unlimited Premium Channels
Create and sell as much premium content as you want. No costs for storage or downloads; fees are only taken as a percentage of your sales.

Sell More
Buyers spend 20% more on in-app purchases. The Podbean Premium platform helps you maximize this opportunity and convert listeners into buyers.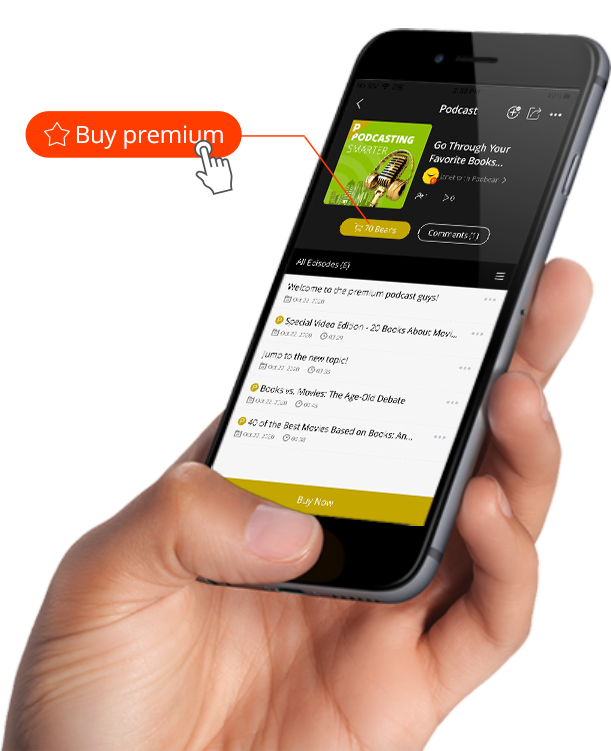 Earn Money from
the Podcast App
Your premium podcast is exposed to millions of potential listeners in our popular Podbean iPhone and Android apps. Convert your audience into buyers while listening on-the-go, anywhere and anytime.
"The site is intuitive and easy to use. And your multiple monetization methods have helped fund our podcast throughout 2019!"
——Arnie Carvalho, Now Playing - The Movie Review Podcast
Podbean powers over 10,000 premium episodes
We've helped our customers sell over 2 million dollars