Advertise Your Podcast
As one of the top podcast apps on both the Apple Store and Google Play Store, the Podbean app can help you grow your podcast audience by reaching passionate podcast listeners right in their podcast app.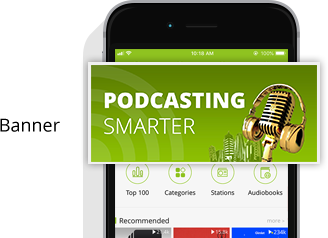 Your ads will appear on the Podbean app's homepage as banner ads. Here are ad performance and price details:
Estimated Performance
Viewers
Clicks
Period
Banner Design
Price
1 million +
10,000 +
20 Days
$799
Terms of Sale
The estimated performance data above is based on current ad performance, but we do not guarantee the performance of your purchased ads. Ad viewership varies over time, and response rates depend on the quality and content of your ad.
All sales are final. No refunds*.
Ads must be appropriate for a general audience of all ages. Once you purchase an ad, it must be approved by Podbean before it goes live, which typically occurs within 3 business days. Podbean reserves the right to reject an ad for any reason, such as (but not limited to) billing issues, quality concerns, or content.
*If your ad is not accepted, your payment will be refunded, with the refund pro-rated if the ad has already run for a portion of its purchased duration.

Purchasing an ad signifies your acceptance of the Terms of Sale above