FEATURES

Customized
You pick which content to monetize for subscribers or as single paid episodes. Set your own prices and other parameters.
Easy, Secure Access
Subscribing or buying episodes is as simple as a few clicks for users. They can securely access purchased content via the Podbean apps or online for convenient listening anytime.
Simple Set Up
Everything can be set up and managed intuitively from your Podbean dashboard. Direct billing and payout via Stripe.
Easy Management
Designating premium content is as simple as one click when publishing. Premium content and subscribers are right in your Podbean dashboard.

Maximize Your Profit
No upfront fees. Podbean handles all the technical, billing and customer support needs…for a simple 15% share of revenue earned!
Crowdfunding Integration
Podbean's unique crowdfunding platform facilitates recurring listener support for podcasters. Patron rewards can include access to premium subscriptions, all integrated with Podbean's tools.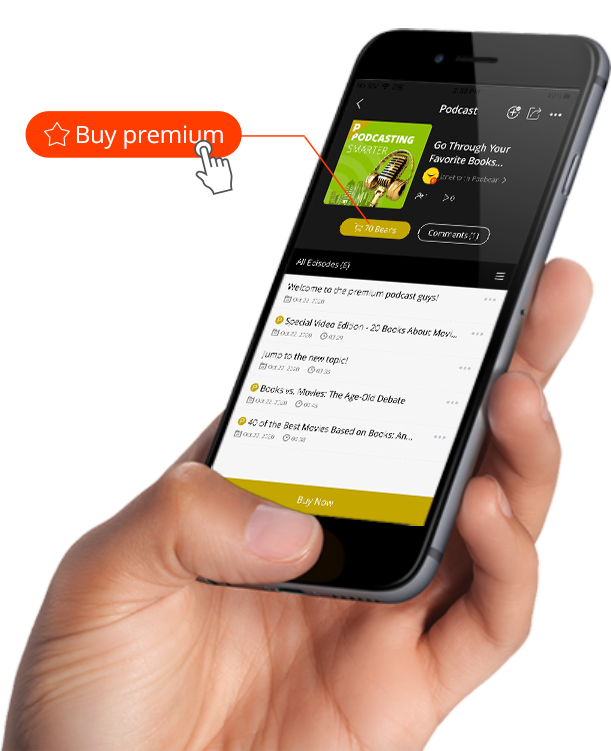 Get paid subscribers from
the Podcast App
Your premium podcast is exposed to millions of potential listeners in our popular Podbean iPhone and Android apps. Your audience can become paid members while listening on-the-go, anywhere and anytime.
"The site is intuitive and easy to use. Your uptime is tremendous. The web site generated would fit the needs of most podcasts. And your multiple monetization methods have helped fund our podcast throughout 2019!"
——Arnie Carvalho, Now Playing - The Movie Review Podcast